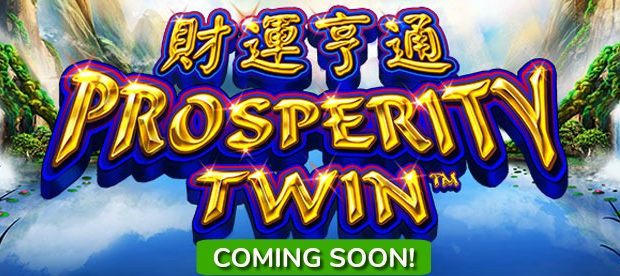 Winning lines in both directions for Prosperity Twins slot machine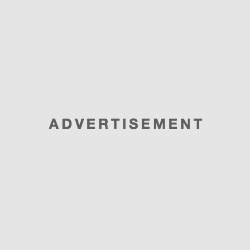 NextGen Gaming released a new slot machine called Prosperity Twins a few days ago. Prosperity Twins features a special gameplay that allows you to play with either 243 pay lines from left to right, or 243 pay lines in either direction (486 lines). Depending on the strategy you adopt, the redistribution rate will be higher or lower.
How many winning lines do you want?
Prosperity Twins is a new slot machine that you will find on the platform Mr. Vegas. It is based on Asian popular culture and how luck is perceived by players in general. The game features a soothing nature background with two waterfalls on either side of the rollers. On the front of the reels are also two mini statues of golden frogs. The frog is a symbol of happiness and luck for some Asian cultures (especially the Japanese).
Prosperity Twins is a brightly colored machine with 5 rolls, 3 rows and 243 to 486 paylines. When the machine is started, 243 lines will be active from left to right. You will find a small icon on the left of the spin button which will allow you to validate 243 extra pay lines coming from the right.
Increasing the possibilities of winning lines will naturally increase the price of the spins but the operation remains slightly to your advantage. Indeed, betting 243 lines on one side will cost you the lowest 0.28€. By doubling these lines (also using the 243 lines from right to left), you will spend €0.50 on the spin, less than half in price. The redistribution rate can thus increase from 95.45% to 96.29%.
The madness of free spins
Prosperity Twins features wilds symbols and free spins in fairly large quantities. 3, 4 and 5 scatters trigger 8, 18 and 28 free spins respectively, knowing that it is possible to increase the spin count during free spins by simply finding 2 or more scatters. 2 scatters during free spins will add 2, 6 or 8 additional free spins. During our tests, we succeeded (fortunate?) To chain 42 free spins leaving only 8, showing that the game can take all its splendor during this mode.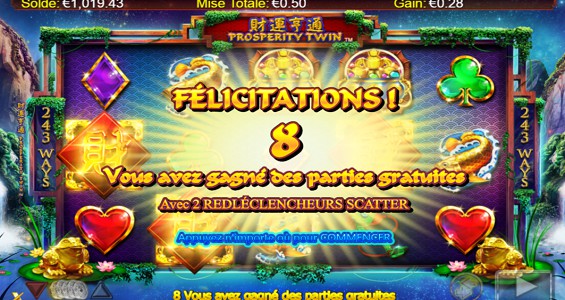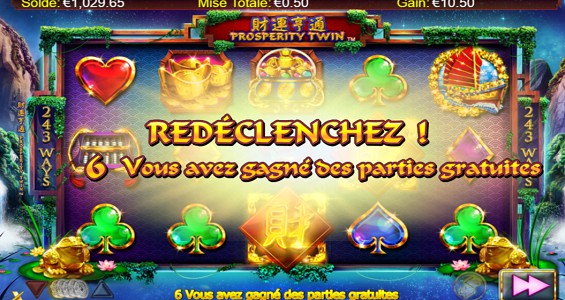 Prosperity Twins is already available on most online casinos NextGen Gaming, including Mr. Vegas.