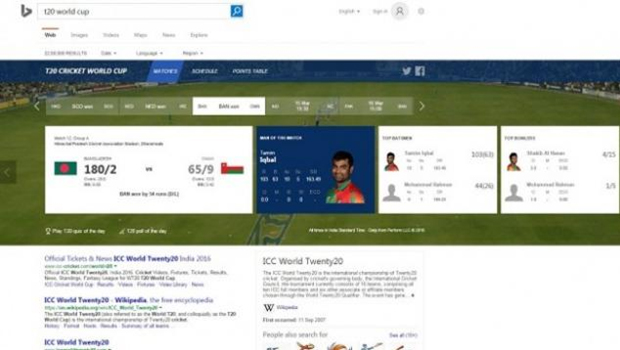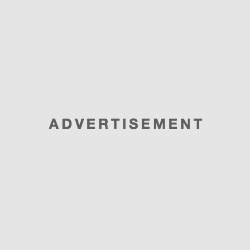 Microsoft's Bing search offers in-game predictions, polls and quizzes for T20 World Cup
With the onset of the T20 Cricket season in India, Microsoft's Bing has announced a set of Cricket oriented search features such as Bing predictions, polls and quizzes to offer a better search experience. Bing will provide a variety of Cricket content such as live score, news, videos, photo, stats, previews, commentaries, etc. The search engine will also provide information on history of Cricket, the records held by cricketers as well.
If a user searches for "Cricket World Cup" on the Bing homepage, it will bring up relevant content related to match predictions, standings, stats, polls and quiz on a day by day basis as the competition progresses respectively.
In terms of new additions, the Bing Predicts feature makes in-match predictions, updating winners every five overs. Bing also uses search, social, and other relevant data to make predictions about upcoming events, like sports games, reality TV shows and more. Cortana is also said to keep users on Windows 10 stay updated with the best of the Cricket matches. One can simply ask Cortana, "Cricket scores" or scores of the favourite team, and they will be able to check the entire schedule of the tournament or the matches of their team as well.
In other features, the search engine is also said to offer users, the most recent results and updates starting from Match schedule to point tables. Bing will also have all the information one needs for the matches with features including match schedules, results, and top player statistics.
Users will also get to play a daily cricket quiz and voice their thoughts in the daily poll. Users can share their score card via Facebook and Twitter and can challenge their family/friends to take up the cricket quiz too.
With the integration with UC Browser, its users can now use the analytical feature offered by Bing. The search engine will provide big data and stats on Cricket games with UC Cricket and fans watching the match live from the stadium will also be able to see the Bing predicts at the beginning of the match, as it will be accessible via mobiles and other devices on Bing.com.
Speaking on the refreshed features, Sundar Srinivasan, GM Bing Search, said, "Over the past few months, we have been working to enrich Cricket search experiences to show more match details. We anticipate our unique offerings such as Bing Predicts and quiz will make this T20 Cricket season much more exciting and engaging for the fans. These all new experiences on Bing and Cortana will provide comprehensive cricket information for all cricket fans."