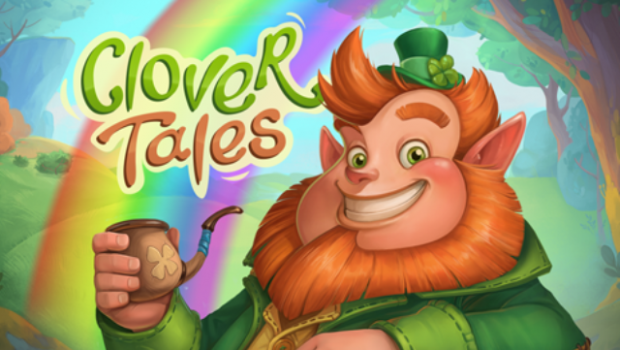 In search of Leprechaun's treasure with the Clover Tales slot machine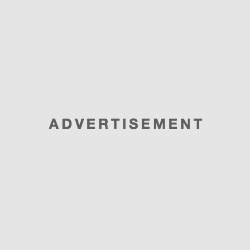 In the world of online casino games, it is not uncommon for a provider to announce a slot machine release related to the myth of the Irish leprechaun. Symbolizing luck and wealth, he will be the hero of the future Playson slot machine: Clover Tales. With a little luck, you will find the way of the rainbow and discover many riches!
Follow the rainbow of leprechaun
The Clover Tales slot machine is expected to be released soon on all of the online casinos Playson as it is already available in fictitious money on the developer's website. Graphically well-made and letting the Irish leprechaun appear in the background, quietly installed on his rocking chair waiting for the chance smiles at him, Clover Tales inspires the quietude.
You can see that at each spin you throw, a rainbow will be visible behind the reels and will designate one of the winning combinations. If you can find a win line on this combination, you can get re-spins or free spins. But it will depend on what type of symbols you display.
Concretely, the game launches a re-spin if you find this winning line with the symbols of horseshoes, four-leaf clovers or pipes. When this happens, the game randomly assigns a bonus between the frozen wilds and the shifting wilds. The frozen wilds allow you to change some symbols to wilds that remain frozen and keep their positions on the re-spin. Shifting wilds will occupy a random position on the reels during re-spin.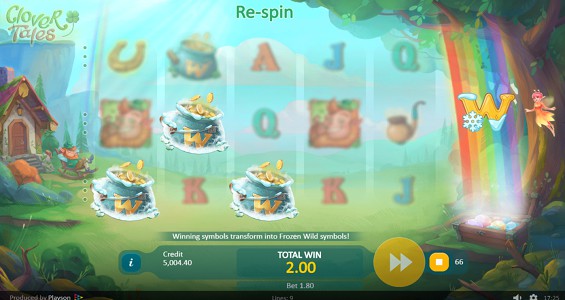 If the winning line found on the rainbow is composed of the symbols of leprechaun or fairy, then free spins will be obtained. Again, you get your free spins with two random options. In the first case, the 5 free spins start with 1 to 5 expanding wilds with each spin. In the second case, the 5 free spins launch with an expanding wild on the 5th roll, which will move a roll on the left with each spin. It is a game mode that can help to find solid Big Wins (especially in the first case).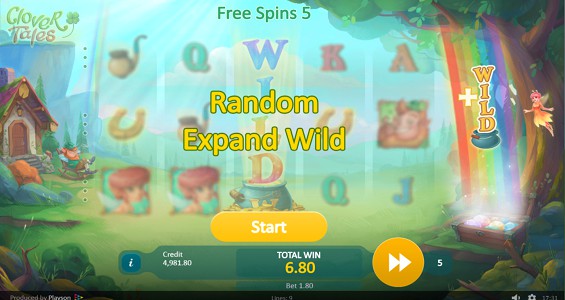 Also note that any wild symbol found on the rainbow will allow it to become expanding wild and occupy the entire roll. In popular culture, leprechaun keeps its gold in a cauldron hidden at the foot of a rainbow, so it is not surprising that this band of color is as important on this slot in line.