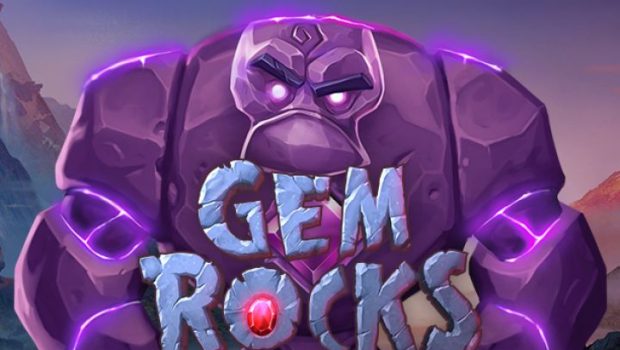 Gem Rocks, the new Yggdrasil Gaming slot featuring stone monsters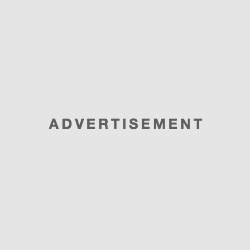 In recent days, the new slot machine Yggdrasil Gaming is breaking on e-casinos, including DublinBet, Cresus and Lucky8. This game called Gems Rocks presents a structure of 6×4 boxes with no less than 4,096 different paylines and the regular appearance of a generous stone monster.
Chain gains to free monsters
Gem Rocks is a machine with 6 reels, 4 rows and 4,096 paylines. Lines of earnings are readable as always from left to right and their large number makes it possible to find very regular combinations. Good because the avalanche mode incorporated into the game can cause the appearance of a human block that maximizes the gains.
As on the slot Asgardian Stones , Gem Rocks is based on the avalanche system, which is to say that the symbols used to gain on a spin disappear to drop the symbols above and give the opportunity to chain of new combinations. The large number of paylines will tend to facilitate the flow.
Gem Rocks offers blocks of stone of different colors. You have to associate these colors with each other to find payment lines. If you manage to chain at least two winning combinations in a row, a stone monster of a certain color will appear on the reels to hit the ground and position itself as a 2×2 block. It allows to find new winning lines.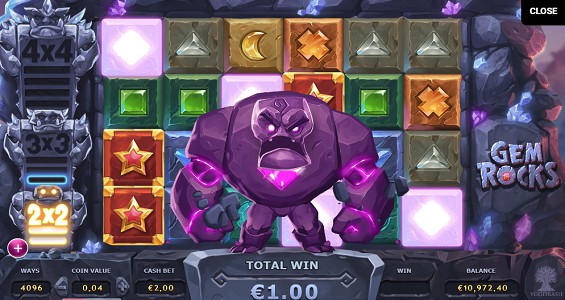 By succeeding to chain five winning combinations, a new stone monster will appear but of size 3×3 this time, which allows to touch more lines. Finally, this monster may appear a third time if you string nine consecutive wins. For his final appearance, he will measure 4×4 boxes and will be almost sure to give you a "big win"!
Gem Rocks is a dynamic slot machine from Yggdrasil Gaming featuring a game system that has been seen but is still appreciated. Accompanying the avalanche mode of stone monsters of different sizes adds interest to this mode. It will not miss more than free spins to be filled! Gem Rocks is available on PC version as well as on mobile media.