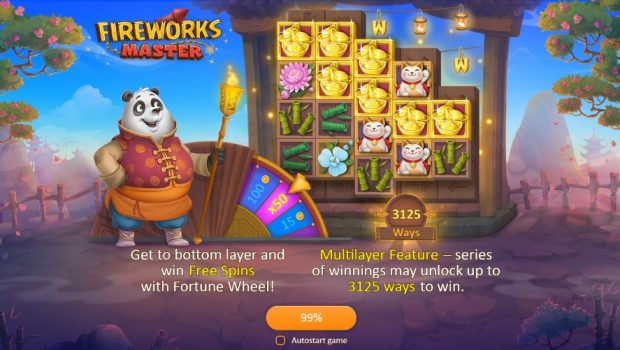 Fireworks Master, a concentrate of detonating features for the future Playson slot machine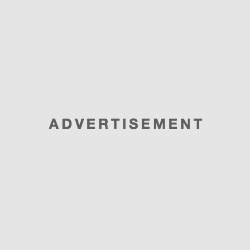 Playson announced the imminent launch of the Fireworks Master slot machine, which represents a kind of bridge between slot machines and mahjong. This original creation introduces you to the master of fireworks, a gourmet panda sitting next to the reels that will react to your finest spins.
An evaluative avalanche mode
Fireworks Master is a slot machine with scalable structure. You start with a 5×3 box structure with 243 paylines in both directions (left and right). The goal of the game will be to chain the winning spins in order to increase the size of the rolls and arrive at the free spins.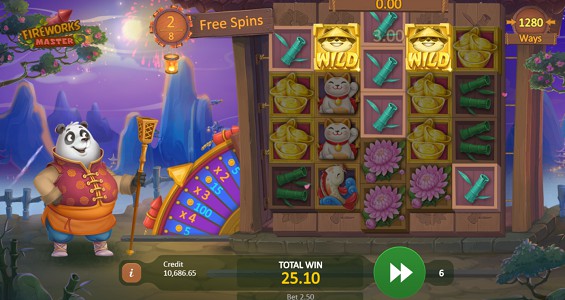 A kind of mahjong array is displayed behind the reels. The goal will be to unlock the boxes of the mahjong by chaining four gains on a spin. When a spin is winning, the boxes used to form a payline disappear to reveal new ones, which can again display a gain (and so on). It is an avalanche mode slightly reworked in two aspects. The number of winning lines increases with each winning sequence and the final spins reveal the mahjong squares, made up of wilds and lantern symbols. If you find seven lanterns on a spin, you get free spins.
Seven lantern symbols grant you seven free spins and it is possible to increase this counter up to fourteen at a time. On arriving at free spins, your maximum potential in terms of winning lines is 3.125. Whenever you find a lantern, synonymous with an extra free spins, the fireworks master lights his own lantern to start the multiplier wheel (on the left). The spin gain is then multiplied by the number found.
Fireworks Master is full of interesting features, but the final goal is free spins, which give you access to the maximum potential of this slot machine. No release date has been advanced but it should be available on Playson online casinos in September.