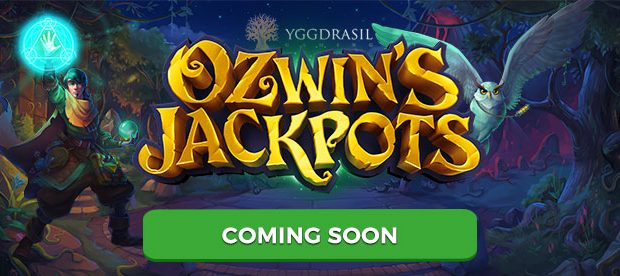 Discover the excellent Ozwin's Jackpots Slot Machine with developer Yggdrasil Gaming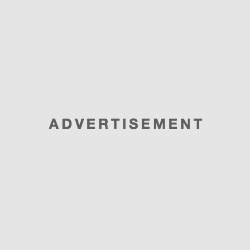 If you're looking for a slot machine with a magical jackpots adventure, Ozwin's Jackpots may be just what you need. With a title like that, we had to suspect that players would have the opportunity to hang big gains! However, Ozwin's Jackpots is above all a magical tale where you will help a young magician climb the ladder of his art, ending up with a bit of luck at the rank of arch mage and his corresponding jackpot.
The Ozwin's Jackpots Slot Machine can be played in real money at the DublinBet online casino. You can also discover it in fictitious money before you start (the fictitious mode is also available on Dublin Bet)!
Free spins, jackpots, bonus game and prize multipliers
Ozwin's Jackpots is a Yggdrasil Gaming slot machine with 5 reels, 3 rows and 20 paylines. Graphically, it is accomplished and pleasant and has a forest a little gloomy with access to a kind of temple (perhaps a laboratory?) On the left of the rollers.
Five levels of jackpots can be seen above the reels, from the most modest to the most important. Below each of these jackpots are several crystals to discover, each with its own color. These crystals allow you (as well as scatters) to unlock free spins, knowing that it is during the free spins that you will be able to claim one of the jackpots. Note that the gains generated during free spins are subject to tripled earnings multipliers.
Ozwin's Jackpot is therefore interesting at this level because it allows players to target achievable winnings, unlike mega progressive jackpots turning a lambda player into a millionaire. These gains certainly exist but they are reserved for a tiny part of the players. With five levels of jackpots of several hundred and thousands of euros, the possibilities of gains are more frequent, which allows a better average return for the players.
Jackpots available during free spins
Ozwin's Jackpots offers free spins that you can get in two different ways, either with the scatters symbols (represented by the blue eggs), or with five crystals in the normal game. These two means allow you to benefit from 10 free spins, as well as the possibility of touching one of the jackpots. It is indeed during free spins that you can win one of the five jackpots of the game.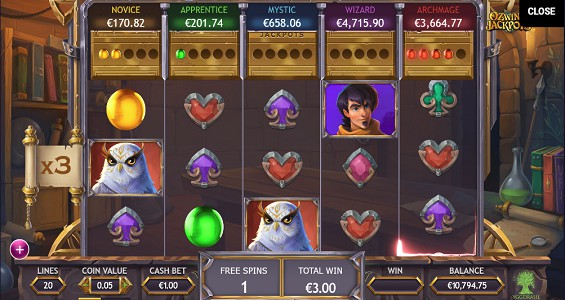 Orbs of different colors will be available during free spins and five orbs of the same color will win the corresponding jackpot. These different jackpots correspond to the ranks of wizards that Ozwin can achieve: Novice, Apprentice, Mystic, Wizard and Arch mage.
Players will finally enjoy a bonus game where the goal will be to open different magic books to draw the riches. The bonus stops as soon as a book of evil magic is discovered! Ozwin's Jackpot is a complete slot machine that we advise you to discover, always in moderation!